Posts for tag: dry mouth
By Malwin & Malwin Family Dentistry
January 16, 2017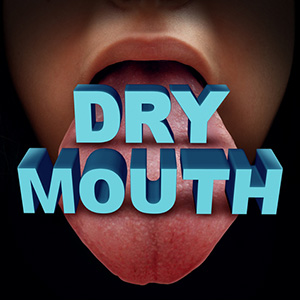 As your mother used to say, "A moist mouth is a healthy mouth." Well, maybe she didn't — but it's still true. Without the constant flow of saliva, your teeth and gums would be less healthy.
That's because among its many functions, saliva helps keep the mouth from becoming too acidic. Just after eating, your mouth's neutral pH level tips to the acidic side of the scale. Acid is enamel's number one enemy, and it takes little time for it to begin dissolving mineral content. But in thirty minutes to an hour, saliva neutralizes the acid; it also helps restore some of the enamel's minerals.
Without adequate saliva flow, acid quickly gets the upper hand. In time, this can greatly increase your risk for dental disease. And for many people, inadequate saliva — dry mouth — is a chronic problem.
There are a number of reasons why. Salivary glands may not produce as much in our later years. In addition, as we age, we may begin taking more medications, some of which can cause dry mouth. Treatments for certain kinds of systemic diseases, particularly cancer, can also inhibit saliva or even damage salivary glands.
If you feel your mouth is continuously dry, make an appointment to find out the cause, which will determine the best course of action to alleviate it. If it's related to your medication, we'll see if there's an alternative. If not, you may need to drink more water when you take your medication and more throughout the day.
There are other things you can do as well. Reduce your intake of acidic foods or caffeinated beverages. Run a cool-air humidifier at night to keep your mouth and nose membranes moist. And you can also try saliva stimulants available by prescription or even over the counter. Chewing gum with xylitol (an alcohol-based sugar) has also been shown to stimulate saliva flow.
Above all, be diligent about daily brushing and flossing and regular dental cleanings and checkups. Keeping a watchful eye will help ensure dental disease doesn't take advantage of your dry mouth.
If you would like more information on managing dry mouth, please contact us or schedule an appointment for a consultation. You can also learn more about this topic by reading the Dear Doctor magazine article "Dry Mouth."
By Malwin & Malwin Family Dentistry
December 21, 2015
Saliva is a true workhorse among bodily fluids — it breaks down food for digestion, keeps harmful bacteria in check and neutralizes acid that is destructive to tooth surfaces. So when saliva flow is chronically diminished, it's more serious than the uncomfortable feeling of "dry mouth" — it can have a detrimental effect on your overall health.
It's normal to experience temporary mouth dryness: in the morning (because saliva flow slows during sleep), when we're under stress, or after smoking or consuming certain foods and beverages like onions or coffee. But chronic dry mouth ("xerostomia") is different — the mouth remains dry for extended periods, leading to problems like tooth decay caused by inadequate acid neutralization.
Medications are one of the most common causes for xerostomia. According to the Surgeon General, there are over 500 medications — both prescription and over-the-counter — that can cause it, including antihistamines, diuretics and antidepressants. Radiation or chemotherapy used for cancer treatment may also cause dry mouth, sometimes permanently. There are also systemic conditions that affect saliva flow like diabetes, Parkinson's disease, cystic fibrosis, and many autoimmune diseases.
Treating chronic dry mouth will of course depend on the underlying cause. If drug-related the first approach should be to find a substitute medication that won't as readily cause reduced saliva flow. If that's not possible, then it's helpful to drink more water when taking the medication (a few sips before and a full glass afterward). You can also cut back on caffeinated, acidic or sugary foods and drinks as well as alcohol, and refrain from tobacco use.
A saliva stimulant might also help. Besides prescription medication, there are other products like xylitol, a natural alcohol sugar found in chewing gum, toothpaste or rinses, that help increase saliva flow — and xylitol also inhibits the growth of decay-causing bacteria.
The most important thing for chronic dry mouth is maintaining consistent daily hygiene through brushing and flossing and regular dental cleanings and checkups. Helping to increase your saliva flow and making every effort to prevent dental disease will help keep this condition from harming your teeth and gums.
If you would like more information on the causes and treatment of dry mouth, please contact us or schedule an appointment for a consultation. You can also learn more about this topic by reading the Dear Doctor magazine article "Dry Mouth."