Posts for: March, 2018
By Malwin & Malwin Family Dentistry
March 29, 2018
Did you know 50% of people admit to some form of anxiety visiting the dentist, with roughly 1 in 6 avoiding dental care altogether because of it? To ease anxiety dentistry has developed sedation methods that help patients relax during dental treatment.
Many can achieve relaxation with an oral sedative taken about an hour before a visit. Some with acute anxiety, though, may need deeper sedation through an intravenous (IV) injection of medication. Unlike general anesthesia which achieves complete unconsciousness to block pain, IV sedation reduces consciousness to a controllable level. Patients aren't so much "asleep" as in a "semi-awake" state that's safe and effective for reducing anxiety.
While there are a variety of IV medications, the most popular for dental offices are the benzodiazepines, most often Midazolam (Versed). Benzodiazepines act quickly and wear off faster than similar drugs, and have a good amnesic effect (you won't recall details while under its influence). While relatively safe, they shouldn't be used with individuals with poor liver function because of their adverse interaction with liver enzymes.
Other drugs or substances are often used in conjunction with IV sedation. Nitrous oxide ("laughing gas") may be introduced initially to help with anxiety over the IV needle stick. Sometimes pain-reducing drugs like Fentanyl may be added to the IV solution to boost the sedative effect and to reduce the amount of the main drug.
If we recommend IV sedation for your dental treatment, there are some things you should do to help the procedure go smoothly and safely. Because the after effects of sedation may impair your driving ability, be sure you have someone with you to take you home. Don't eat or drink anything after midnight the day before your appointment, and consult with both your physician and dentist about taking any prescription medication beforehand. Wear loose, comfortable clothing and don't wear contact lenses, oral appliances like dentures or retainers, watches or other jewelry.
Our top priority is safety — we follow strict standards and protocols regarding IV sedation and you'll be carefully monitored before, during and after your procedure. Performed with the utmost care, IV sedation could make your next dental procedure pleasant and uneventful, and impact your oral health for the better.
If you would like more information on IV and other forms of sedation, please contact us or schedule an appointment for a consultation.
By Malwin & Malwin Family Dentistry
March 14, 2018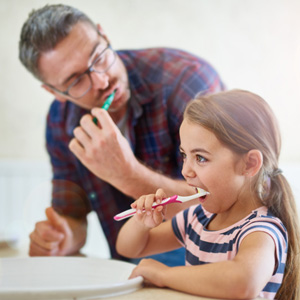 Philosopher Will Durant wrote, "…We are what we repeatedly do. Excellence, then, is not an act but a habit." While that observation could aptly apply to a great deal of life, it's certainly true of dental health. Strong, healthy teeth and gums are largely the result of good oral habits started in early childhood.
Here are some important dental care habits you'll want to instill in your child, as well as yourself.
Practice and teach daily oral hygiene. Keeping your child's mouth clean helps prevent future dental disease. It should begin before teeth appear by wiping your baby's gums with a clean, wet cloth after every feeding to keep decay-causing bacteria from growing. Once teeth appear, switch to brushing with just a smear of toothpaste until age 2, when you can increase to a pea-sized amount. As your child matures, be sure to teach them to brush and floss for themselves, especially by modeling the behavior for them.
Begin dental visits early. Besides daily hygiene, regular professional dental care is one of the best habits for keeping healthy teeth and gums. Plan to begin your child's dental visits by age 1 when some of their teeth may have already come in. And by beginning early, it's more likely your child will view dental visits as a routine part of life, a habit they'll more likely continue into adulthood.
Keep your oral bacteria to yourself. Many strains of bacteria, especially harmful ones, don't occur spontaneously in a child's mouth. They come from the outside environment, most often from their parents or caregivers. To avoid transmitting disease-causing bacteria from you to your baby don't share eating utensils, don't lick a pacifier to clean it, and avoid kissing infants (whose immune systems are immature) on the mouth.
Encourage your teenager to avoid bad habits. Hopefully when your children reach adolescence, they've already developed good oral habits. But there are some bad habits you should also help your teen avoid. While piercings are a popular expression among this age group, teens should avoid tongue and lip bolts and other piercings that could damage teeth. A tobacco habit can also have negative consequences for dental health including increased decay or gum disease risk and cancer.
If you would like more information on dental care for children, please contact us or schedule an appointment for a consultation. You can also learn more about this topic by reading the Dear Doctor magazine article "Dentistry & Oral Health for Children."